GreenOmen Creative Solutions provides marketing analytics consulting services to ensure that marketing campaigns are tailored to meet your goals.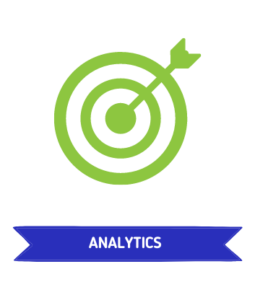 Analytics
Marketing analytics help businesses track their performance to make informed, data-driven, strategic decisions and meet their goals.
Key Functions
GreenOmen Creative Solutions combines a technical background with creative intensity to construct unique solutions for your business.
Create Interactive Dashboards
Business dashboards empower professionals to understand big-picture performance and drill down to analyze the driving elements of success.
GreenOmen designs and develops flexible, custom dashboards to facilitate understanding within a department and impact the larger organization.
Interactive dashboard clients include Corales & Woody, Delta Air Lines, The Home Depot, IHG, and Mueller Water Products.
Data Visualization
Presentation-ready data visualizations bring program measurement statistics to life and help facilitate understanding with internal and external clients.
GreenOmen designs and develops on-demand data visualizations to promote better storytelling with data.
Data visualization clients include Bucher + Suter, Corales & Woody, The Home Depot, and IHG.
Transforming Data Into Insights
Discover what the numbers mean with insights gleaned from analyzing data.
GreenOmen evaluates relevant metrics to make recommendations to improve performance and reach stated goals. Eliminate guesswork with data-driven insights and make smarter investments that improve ROI.
Transforming data into insights clients include Corales & Woody, Delta Air Lines, The Home Depot, IHG, Salon Ten80, and The Rock Law Firm.
Creating Targeted Marketing Strategies
Get the most out of a marketing budget with marketing strategies that target the most profitable leads and customers.
Data-driven targeted marketing strategies utilize test results to optimize advertisements for the highest ROI.
Creating targeted marketing strategy clients include Best Rewards Programs, Ga Mountains Guide, Corales & Woody, Salon Ten80, and The Rock Law Firm.
Experience
GreenOmen Creative Solutions' founder, Alyce Green, has a wide array of experience in diverse and exciting industries spanning a career of 20+ years.
Industry Experience
Alyce has enjoyed a wide array of responsibilities in exciting roles while both teaching and learning from dynamic and talented colleagues. Industry experience includes:
Young startups to established blue-chip corporations

ClickRadio – pre-revenue music startup
The Home Depot – Fortune 100 retailer

Local businesses to a global footprint

Corales & Woody – law firm practicing in Georgia
Delta Air Lines – international air carrier
IHG – hotel franchise with locations on six continents

Small proprietorships to the state's largest employer

Horizon's Financial Advisors – 3 employees
The Home Depot – Georgia's largest employer

A diverse range of industries

Airline – Delta Air Lines
Entertainment – ClickRadio
Financial – Horizon's Financial Advisors
Hospitality – IHG
Infrastructure – Mueller Water Products
Legal – Corales & Woody, The Rock Law Firm
Local Services – Get Markd, Salon Ten80
Retail – The Home Depot, Eddie Bauer, The Finish Line, Body Shop
Telephony – Bucher + Suter
Software Experience
Decades of experience with leading software packages mean that projects get turned around quickly and accurately.
Enterprise data: SAS, SQL, MS Access, MS Excel
Web data: Google Analytics, Google apps, Jaaxy
Design: Canva, SnagIt
Presentation: MS Excel, MS Powerpoint, MS Word
Website design: WordPress
***
Contact Alyce via email at greenomencreative@gmail.com to learn more about how to get started with your marketing analytics project.